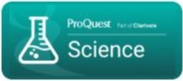 This database is a definitive resource for students studying both the applied and general sciences. With coverage dating back to 1986, ProQuest Science Journals features over 1030 titles, with more than 760 available in full text. Search over 2.7M records, dating back to the mid 1980s.
This database is provided by the Massachusetts Board of Library Commissioners, and is free for all with a library card from a certified MA library.
Library Hours
Mon-Wed 9:30am-8pm
Thu-Fri 9:30am-5pm
Sat 9:30am-2pm
For security purposes, the upstairs floor closes 15 minutes before closing time. Main doors are locked 5 minutes before closing.
---
PHONE NUMBERS
Circulation Desk: 413-772-1544, option 4
Children's Room: 413-772-1544, option 5
Information Services: 413-772-1544, option 6
MAILING ADDRESS
Greenfield Public Library
412 Main Street
Greenfield, MA 01301
LIBRARY DIRECTOR, Anna Bognolo
413-772-1544 x 5109
ann.bognolo@greenfield-ma.gov
LIBRARY TRUSTEES
LibraryTrustees@greenfield-ma.gov